9th June 2017 – Real Madrid's Cristiano Ronaldo is the highest paid athlete on earth with earnings of $93 million, according Forbes magazine's annual ranking of sportstars' salaries. In a top 100 list dominated by 63 US athletes (29 of them from the NBA), Ronaldo came top of the earnings pile for a second year running.
Wherever you have Ronaldo you can be sure there will be a Lionel Messi nearby. He was ranked third in the list with earnings of $80 million, behind NBA star LeBron James who racked up $86.2 million in earnings.
Ronaldo had a good year in terms of safeguarding his future earnings with a contract extension that will pay $50 million annually for the next four years and lifetime deal with Nike that is worth $1 billion.
What makes him good value for his sponsors who make up $35 million of his earnings is his 277 million followers on social media across Facebook, Twitter and Instagram. The world player of the year with 121 million Facebook fans has far more followers than any other individual in the world.
Forbes say his posts generated $500 million of media value for Nike in 2016. The research notes that "the 100 highest-paid sports stars earned a cumulative $3.11 billion over the past 12 months, down 1% from last year. But the threshold to make the list rose $600,000 to $21.4 million."
There are eight football (soccer) players in the top 100. The others are:
Neymar – $37m ($15m in salary, $22m in endorsements)

Gareth Bale – $34m ($23m, £11m)

Zlatan Ibrahimovic – $32m ($27m, $5m)

Wayne Rooney – $23.6m (£17.6m, $6m)

Luis Suarez – $23.3m ($17.3m, $6m)

Sergio Aguero – $22.6m ($14.6m, $8m)
The Forbes earnings figures include salaries, prize money and bonuses earned between June 1, 2016, and June 1, 2017. Endorsement incomes are an estimate of sponsorships, appearance fees and licensing incomes for the same 12-month period based on conversations with dozens of industry insiders. The figures do not deduct for taxes or agents' fees, and don't include investment income.
Endorsements and appearance fees make up 29% of the total for the top 100 athletes with Nike the most prolific with 48 athletes under contract, committing $9.4 billion in future endorsement contracts to athletes, teams and leagues per its 2016 financial filings.
Serena Williams is the only female athlete to make the Top 100 at 51 ($27 million).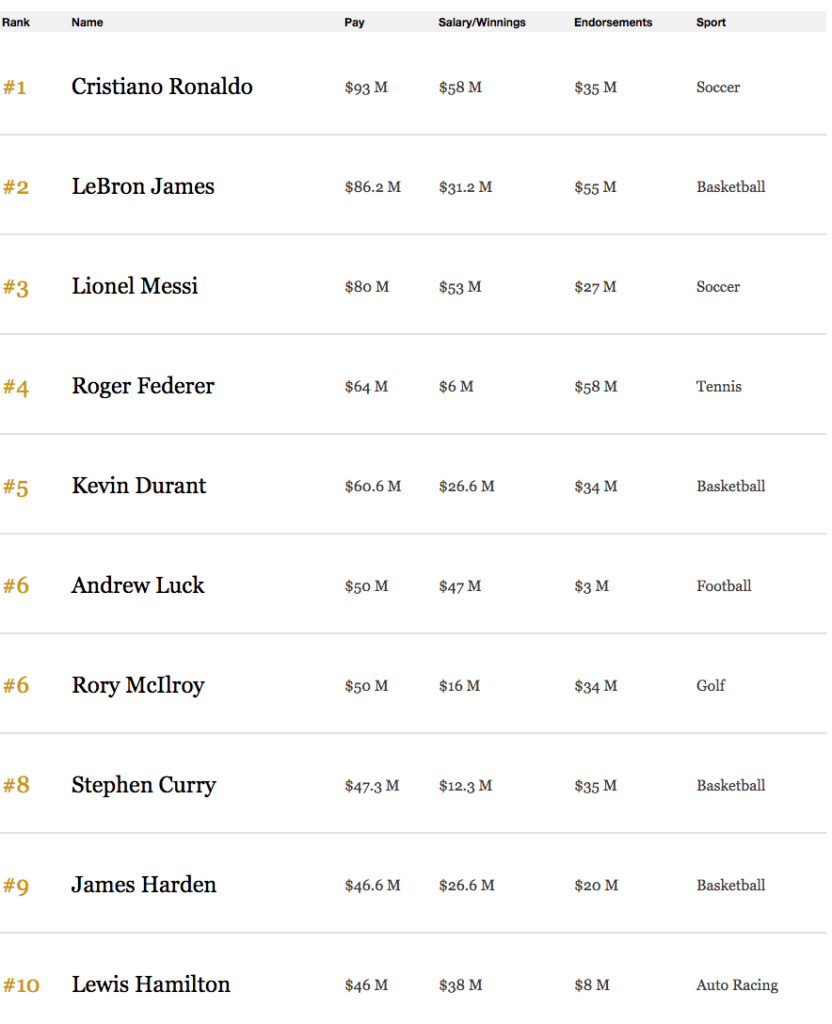 Source: Forbes Magazine
See the full ranking at https://www.forbes.com/athletes/list/#tab:overall
Contact the writer of this story at moc.llabtoofdlrowedisni@noslohcin.luap