Global Ball Sports Luggage Market 2019-2023
The global ball sports luggage market is forecast to grow at a CAGR of almost 5% during 2018-2023, and the market size will increase by USD 190.69 million during the forecast period of 2019-2023. Between 2018-2023, the ball sports luggage market will grow at a faster pace than the overall market growth in 2019. The growth momentum of the ball sports luggage market is expected to accelerate in the second half of the forecast period compared to the increase in the first half.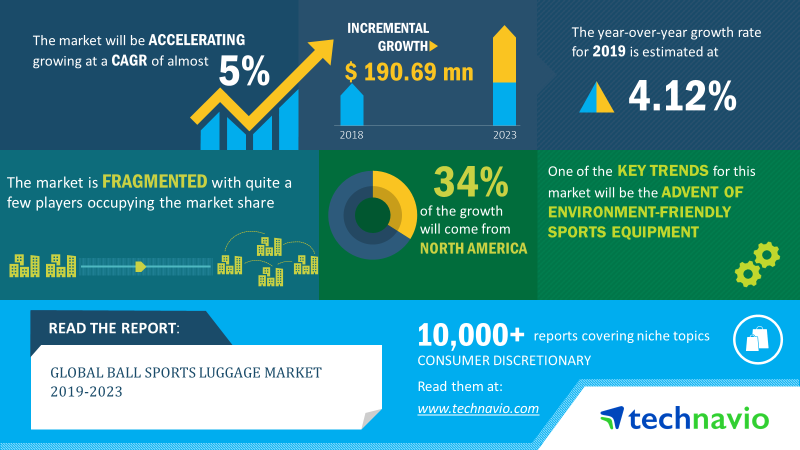 The ball sports luggage market is fragmented, and the degree of fragmentation is expected to remain the same by 2023. An outlook of accelerating growth would provide opportunities to all market participants to grow. Market participants should focus on the opportunities on the demand side rather than getting overly impacted with the competitive dynamics. The accelerating growth momentum will be one of the contributing factors moderating the competitive intensity in the market over the forecast period.
Some of the key findings from our ball sports luggage market forecast report are summarized below
Ball Sports Luggage Market
Offline was the largest segment within the overall market in 2018 and will continue to remain so in 2023. The growth rate of the online segment will be faster than the global market growth during the forecast period 2019-2023. However, the growth rate of the offline segment will be slower than the overall market growth.
To identify growth opportunities in the ball sports luggage market, the market has been segmented into regions that are growing faster than the overall market. These regions have been pitted against regions that have a slower growth rate than the global market in 2018-2023. APAC and South America will grow faster than the overall market. Europe, MEA, and North America's growth will be slower than the global market.
See the complete table of contents and list of exhibits, as well as selected illustrations and example pages from this report.
This ball sports luggage market report provides a detailed analysis of the market by distribution channel (offline and online) and geography (APAC, Europe, MEA, North America, and South America). Also, the report analyzes the market's competitive landscape and offers information on several market vendors including adidas AG, Amer Sports, Nike, Inc., PUMA SE, and Under Armour, Inc.
Global ball sports luggage industry overview
With the increasing demand for sustainable products among consumers, the demand for ball sports luggage manufactured from eco-friendly raw materials is also increasing. This has encouraged vendors to use eco-friendly materials such as organic cotton, water-based adhesives, ocean plastic, and recycled materials in their manufacturing process. Thermoplastic elastomers (TPEs) are also being widely used to make environment friendly products. Hence, the advent of environment-friendly sports equipment is identified as a key trend that will positively impact the growth of the ball sports luggage market.

The number of ball sports tournaments has witnessed a rapid surge with an increasing number of people taking an active interest in ball sports activities. For instance, the popularity of basketball is not limited to the US and has spread across the UK, China, and other countries of Europe. The worldwide broadcasting of NBA games and strong social media presence has further bolstered the popularity of basketball across the globe. The popularity of wheelchair basketball and women's basketball is also surging. This has resulted in the growth in the number of participants playing basketball and created several growth opportunities for basketball luggage vendors. Similarly, the growing number of ball sports tournaments will boost the growth of the ball sports luggage market at a CAGR of almost 5% during the forecast period.

Top ball sports luggage companies covered in this market research report
The global ball sports luggage market is fragmented. To help clients improve their market position, this report provides an analysis of the market's competitive landscape and offers information on the products offered by various companies. Moreover, this ball sports luggage market analysis report also provides information on the upcoming trends and challenges that will influence market growth. This will help companies create strategies to make most of the upcoming growth opportunities.

Resources: https://www.technavio.com/report/global-ball-sports-luggage-market-industry-analysis

Sorgu: 69 sure: 0.444